Cruising into Exy on a cruise ship is become a popular holiday choice and Exmouth is a must see place to visit on a cruise destination list!
Cruises to Exmouth in 2018!
Pacific Princess Cruise
Navigate the World 2018 Cruise
Australian Explorer Cruise
2018 World Cruise
Empress of the East Cruise
Southern Seas Cruise
Coral Coast Cruise
Java Sea & West Australia Cruise
We have a full list of the Cruise ships visiting Exmouth. The list includes departure dates, amount of time spent in Exmouth, name of the cruise ships and cruises companies.
Things to do in Exmouth in 1 Day
The best things to see in Exmouth if you only have one day on a cruise ship visit include:
Book a day tour to explore the Ningaloo Reef
Swim with a Whaleshark on a one day tour (Seasonal)
Snorkel with a Manta Ray on a one day tour (Seasonal)
Swim with Humpback Whales on a one day tour (Seasonal)
Book a boat tour to see Yardie Creek Gorge
Visit the Ningaloo Centre
Take a walk around our cute town centre
Visit town beach for a swim
Have a coffee at one of our coffee shops
Hire a car and hit the Cape Range National Park
Snorkel our many beaches
Swim at beautiful Bundigi Beach
See the Midura Wreck.
Dive to the top of Charles Knife Canyon and look over the Cape.
Visit Shothole Canyon and see the layers of ancient range formations.
Take a trip out to the Vlaming Head Lighthouse and watch the whales cruise past (Seasonal)
Grab a local beer at Whalebone Brewing Company
Hire a car and drive the Lighthouse Scenic Drive
Shop for Souvenirs at our small and friendly town centre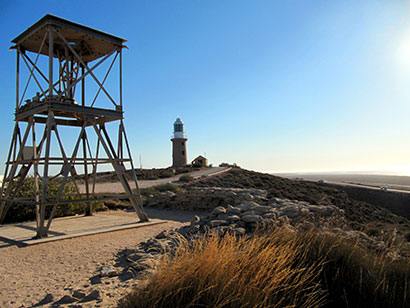 Booking a Shore Tour
Book shore tours directly with your cruise ship. Please refer to your ticket information for departure times and locations. Visit our tours page for a full list of tours available.
Cruise Ship Docking Information for Exmouth
Exmouth has a safe gulf where your cruise ship will anchor, passengers are transferred to the marina by tender boats.
Cruising Around Exmouth
The town of Exmouth is positioned on the east side of the Cape on the Exmouth Gulf. The town centre is around 6kms from the marina. Shuttle buses are available for transfers to and from designated drop-off location in town. Hire cars, buses and tours are available to book if you would like to see more of Exmouth area.
Dinning, Cafes and Restaurants in Exmouth
We have a range of places to eat out. Many of our restaurants offer award winning menus and are worth visiting. Most places are located within the town centre.
Quarantine food that must stay on the ship include:
Foods such as fruit and vegetables
Dairy and meat products
Including Sandwiches
You can take these foods ashore (subject to inspection):
Commercially packaged confectionery
chips
Bottled drinking water
Shops
Souvenirs and local crafts can be found at the main shops at the town centre and at the Exmouth Visitors Centre.
Medication and health products can be found at the local pharmacy located in the town centre.
Climate and Weather
The hot summer months are during November to April. Temperatures can often reach the 40's during summer. Be sure to drink lots of water during this time when visiting. The cooler months have an average temperature of around 25 degrease.
Exmouth's rainfall is limited and Exmouth offers an all year around summer!
For a weather report visit BOM (Bureau of Meteorology).
Money and Credit Cards
All major credit cards and charge cards are widely accepted and Automatic teller machines (ATM's) offer currency to foreign card holders.
What to take and wear during cruising shore visits
We strongly advise wearing comfortable flat soled shoes, lightweight clothing and a full brim hat. Wear full strenght sunscreen and carry bottled water to keep hydrated.
Our local environment and responsibilities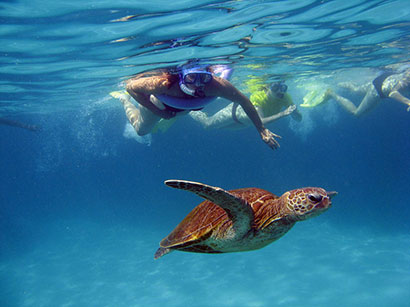 The Ningaloo Coast was listed as a World Heritage area for its natural beauty and biological diversity. This area covers 604,500ha and includes the State and Commonwealth Ningaloo Marine Parks, Cape Range National Park, the Learmonth Air Weapons Range, Bundegi and Jurabi coastal parks, the Muiron Islands and Muiron Islands Marine Management Area.
Please ensure you take care of the natural environment and help maintain the area for everyone to enjoy. We ask you to leave only footprints and take only memories. Please dispose of your rubbish in the bins provided throughout the town centre. Please be careful not to touch or stand on the reef, as they are living organisms and take years to grow.
Smooth Cruising
We hope you have a wonderful time cruising Exmouth, we can't wait to share this beautiful and precious area of the would with you!